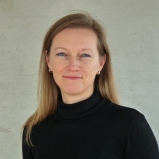 Professor of Branding
University of Innsbruck - School of Management
Department of Strategic Management, Marketing and Tourism - Branding
A-6020 Innsbruck
Austria / Europe
E-Mail: andrea.hemetsberger@uibk.ac.at


I got my first degree as a teacher in home economics at the Institute for Pedagogical Studies in Innsbruck before I engaged in my studies in Business Management at the Leopold-Franzens University of Innsbruck. After a two-year project for the Austrian Chamber of Commerce I started working part-time and lecturing at the former Department of Marketing and Retailing. Since 1993 I am Assistant Professor and finished my doctorate in 1997. In 2000 I was granted a Marie-Curie fellowship from the European Commission and spent one year at the department of Marketing at Tilburg University, Tilburg, The Netherlands. After finishing my Habilitation thesis in 2006 I was visiting researcher at the Schulich School of Business, York University in Toronto, Kanada. In Spring 2007 I held a position as a visiting professor at the Ecole Supérieur des Economiques et Commerciales, Paris, France. I am a regular visiting professor at the Université Paris-Dauphine in Paris and visiting lecturer at ESSEC, France. At the University of Innsbruck I am leading a research team in Branding. Since 2010 I serve as academic director for the interfaculty research plattform Organizations & Society comprising 150 researchers from four different disciplines.
Research Focus
My research revolved around the Free Software and the Open Source movement, their motivational basis, their modes of social exchange, and the ideological core of their resistant culture. I use this context to investigate the increasing tendency of democratization of markets, and the shift towards consumer/stakeholder initiated entrepreneurial endeavours. My most recent projects investigate practices of participation, collaboration, and authentication of collective brands, such as for instance Mozilla.
One of my main research interests is in branding and in brands as complex social phenomena, in particular. I apply a process and action nets view in my re-conceptualization of brands and branding. Hans Mühlbacher and Sylvia von Wallpach substantially contribute to this reflective work.
Together with Sylvia von Wallpach and Martina Bauer I am deeply involved in rethinking the concept of luxury. We view luxury as an experiential concept in mind, which is not exclusively built on the consumption of luxury products. We investigate into people's perception of luxury and its relation to consumers' selves, and liminal phases of transition. Our recent project revolves aroung changes in luxury perception during transition to first time motherhood, and during transition from student to professional life.
Together with Ralf Weinberger and Diego Rinallo's critical review, I am working on the topic of consumers' strategies and practices of differentness.
Every once and a while I do quantitative studies and experiments, particularly in the area of consumer self-transformation through the consumption of products and brands.